Project Pixel X Gertrude Street Projection Festival from Project Pixel on Vimeo.
Project Pixel Squared – Fourth Edition 2015
The fourth edition of PROJECT PIXEL SQUARED will be focused on VJing as a medium for artistic expression. It will feature audio-visual performances, artist presentations and a Touch Designer workshop at the eagerly anticipated 2015 Gertrude Street Projection Festival at the GSPF Hub @ The Cat Fish venue on Saturday the 11th of July from 1:00 PM.
GERTRUDE STREET PROJECTION FESTIVAL is one of Australia's premier projection festivals, aimed at supporting and showcasing the best projection artists from Australia and all over the world running from the 10th – 18th of July.
PROJECT PIXEL SQUARED is an artist lead AV symposium for networking, knowledge sharing and new thinking about the intersection between technology and the live arts. It engages lovers of experimental new media arts through a program of live performances, VJ sets, artist presentations and workshops, and also creates exposure for emerging and already established artists.
PROJECT PIXEL SQUARED showcases Australian talent working at the forefront of this field by providing a platform to connect artists and audiences together, transcending boundaries through open participation and public programs. Held as a part of Gertrude Street Projection Festival, it creates a space for information exchange, innovation and playful experimentation.
Please join the PROJECT PIXEL SQUARED crew, as both light and sound resonate from the walls, while you are taken further and further into the depths of PROJECT PIXEL's fourth edition and the diversity of live moving image.
The fourth edition of Project Pixel is produced by Krystal Schultheiss // VJ KS and Rose Sugarlove // VJ Radiance and the Gertrude Street Projection Festival.

THE EVENT SPACE
Upstairs of the Cat Fish will be transformed into the Gertrude Street Projection Festival Hub for the week of Gertrude Street Projection Festival, hosting a range of entertainment.
Cat Fish is located on Fitzroy's Gertrude Street, running off the well known Brunswick Street. A home to some of Melbourne most urban cultural enriched cosmopolitain suburbs
Program

Touch Designer workshop

Realtime workshop for those who would like to learn how to make their own generative visuals.
Come and learn from some of the best who will show you the tools and techniques to make your own beautiful animations and manipulate them live.Explore the creative freedom that allow artists and designers to improvise more then ever before.
This workshop will look at Touch designer, a visual programming tool that allows coders and non coders to author realtime interractive software. The course will also teach attendees the fundamental tools and knowledge that can be used on any visual programming tool on any operating system.
Open access to all so no prior knowledge required, just a desire to experiment with the medium.
Perfect for visual artists, designers, performers who work with live AV performance, coders and others who would like to explore graphic interfaces in another way.
Project Pixel will hold a day of workshops, artist talks, live performances, connectivity and most of all play. For everyone that would like to join in the visual digital chaos and make something imaginative from it.
Instructors:
VJ Asterix and oliverEllmers
Presentations
Motion data

This presentation will be an artist talk on the collaborative project that Richard De Souza, Peter Walker, Oliver Ellmers and Steven Kilili recently undertook at Deakin Motion Labs. They explored the motion capture of a performer, reinterpreting the motion data so that it can be visualised and also trigger audio.
VJ Union Global
Presentation by Grigori and Scott Wisely
In their talk they will cover the history, ongoing developments and practices that shape day to day activity for VJ Union Global across the world.
Brendan Harwood

Brendan Harwood is a Melbourne-based digital media artist. His practice is primarily engaged with exploring the process of digitalising the surface of physical objects.

Performances
Richard De Souza
Rose Staff
Oliver Ellmers
Krystal Schultheiss
Deams
Chiara Kickdrum
Durban Poison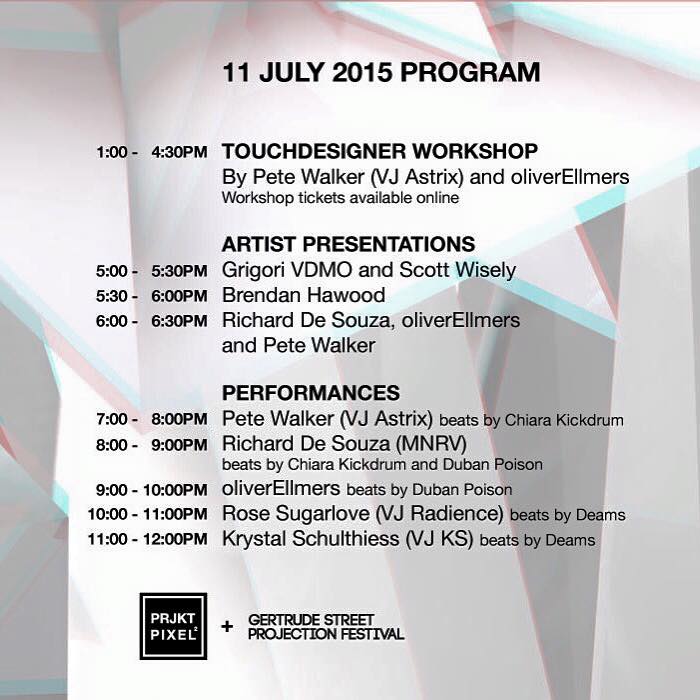 This edition of Project Pixel was produced by Rose Staff and Krystal Schultheiss
Gertrude Street Projection Festival website
Visit Krystal Schultheiss website | facebook
Visit Project Pixel facebook